Jan Marini® Skincare Line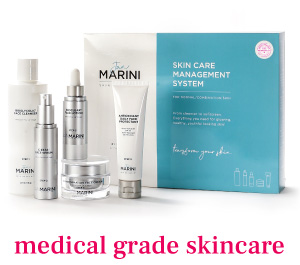 The Jan Marini Skincare Line is a product of Jan Marini Skin Research®, a company that was founded in San Jose, CA in 1994 and is a recognized innovator and leader in the skin care industry. The companys two main focuses are providing cutting-edge technologies that deliver results and a high level of commitment to those they work with.
Active Body Wellness carries both the Skin Care Management Systems, MD as well as the Starter Skin Care System. Both lines offer at-home treatments and products and supplements in addition to aesthetician professional products to help rejuvenate, cleanse, resurface, hydrate and protect the skin.
Jan Marini Skin Care Management System has everything you need for healthy, youthful-looking skin! It hydrates and protects while delivering rapid improvement in the appearance of fine lines & wrinkles, uneven texture, and sun damage.